I love the outdoors, good coffee and tacos.

Rob Wessels Photography
Passionate about capturing the beauty of the outdoors, I am a versatile freelance photographer and videographer. With a wealth of experience operating in diverse locations and challenging conditions, I bring a unique perspective to my work. Whether I'm shooting in the wild or in a controlled studio environment, I excel in delivering exceptional results.
My expertise extends beyond capturing stunning visuals. I have a strong background in conducting interviews and producing content for various social media platforms and advertising campaigns. This has allowed me to develop a keen understanding of marketing strategies and brand identity, enabling me to create impactful content that resonates with audiences.
Adaptability and efficiency are the cornerstones of my work ethic. I take pride in my ability to quickly adapt to new situations, ensuring that I consistently produce high-quality work with minimal errors. I thrive both as part of a collaborative team, collaborating with other passionate creatives, as well as working independently to deliver outstanding results.
If you're looking for a skilled photographer and videographer who can capture the essence of the outdoors while seamlessly integrating with your marketing goals, I am ready to bring your vision to life.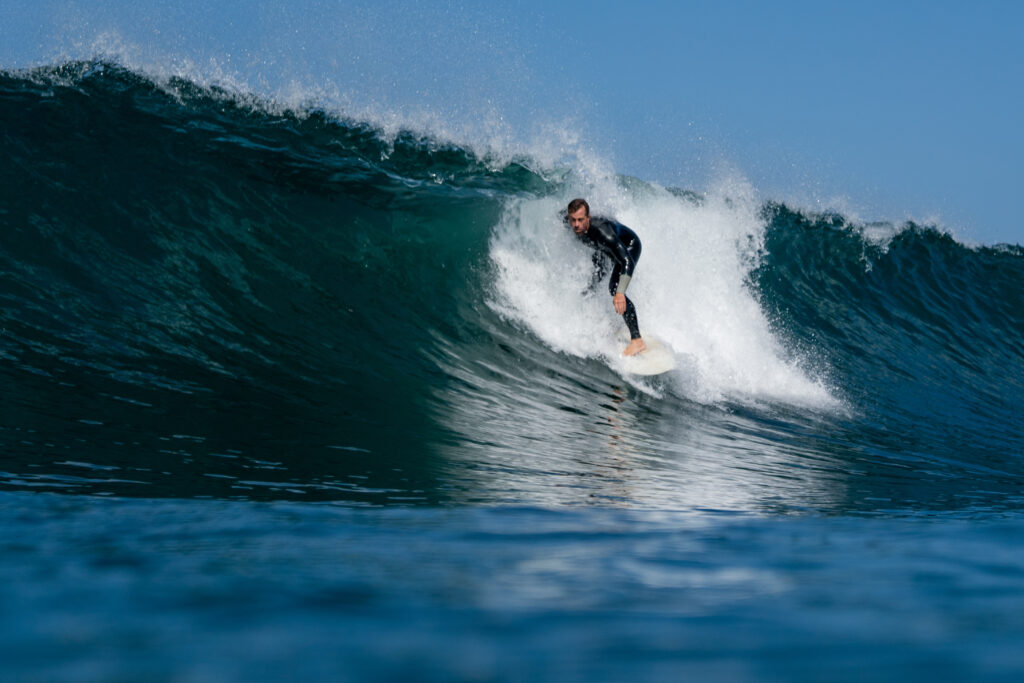 The Beginning
My passion for photography started with a GoPro. Brining it along to capture adventures with friends. From climbing trips to Mexico, riding bikes up in big bear or surfing in San Clemente. I enjoyed snapping photos and making videos.
As progression would have it, I found myself in front of the camera fit modeling for a bike company (not because I look like a model, simply because I ride bikes). As well as riding in some of their advertisements. Evolving more, I began working for a marketing company in Carlsbad California. Assisting in production of commercials to be used on television.
From there, I worked for a textile designer taking product photos for her website. As well as accompanying her on a business trip to Europe to document the journey.
Transitioning from that, to the more familiar: Health, outdoor and bike industries. Specializing in everything active and outdoors, I don't limit myself to only that. Photography and videography is my passion and my primary scope of work. I aspire to be great at all types of photography and I enjoy the unique challenges that come with that.
Through the freelancing process, I have expanded services to incorporate marketing tools for small businesses. This all came about in effort of helping businesses use marketing materials that I create for them more effectively.
Edaptive and versatile
From hostel environmental conditions to the controlled environment of a photo studio. I pride myself on being able to adapt to anything and embrace the creative process.
Get Social
For all inquiries
Fill out the form below and I'll be in contact with you shortly
Quote from a local publication interview:
Hi Rob, how do you think about risk?

Risk: a situation involving exposure to danger.
I believe risk is very subjective. To some extent my entire life is based upon risk or assessing risk and acting accordingly. The activities I enjoy and do on a regular basis all under the worst case scenario could end in death. Death can be another subjective concept. Not following your passion or exploring your purpose I believe leads to death in the context of loss of soul or identity. Decisions I make in life and business are all weighed against the possible outcome of death. I also feel that calculation when navigating risk is very important. Operating in risky situations without calculation makes you reckless. Calculation does not remove the potential negative outcomes. But can statistically make them less likely. I would rather do and fail continually than never try.. Ultimately, facing risk, failing and overcoming has helped me fearlessly experience more of what this life has in store for me.