I love the outdoors, good coffee and tacos.

From an interview with a local publication
Let's talk shop? Tell us more about your career, what can you share with our community?

I am a photographer 1st and videographer / guy that knows some stuff about marketing 2nd. In this creative realm I feel there are 2 categories: The art is what I deem interesting to myself and with that I'm not sure if anyone actually cares about what I think is cool. I have a concept of something that I have wanted to do for several years now that I plan on starting in 2022. This will be my first "body of work" where I can express what I believe is art. The other is being a hired photographer, in that role I'm trying to realize someone else's vision or align imagery to a brand or concept. This still can be art, it just has a varying level of personal expression in it.
Trying to be a full time photographer has been one of the most difficult things I've attempted. Having no college degree and being completely self taught makes getting your foot in the door with a company extremely hard. When I first quit my full time job to pursue this I was a hobbyist photographer. The first thing I learned in my pursuit of this dream was that I wasn't good enough. This wasn't told to me by anyone, this was through self examination of my own work. While I could produce a great result in one setting I would struggle in others. Just imagine quitting your job to pursue something you love and the first thing you learn is that you aren't good enough at it.. Ego deflating and emotionally draining. Nonetheless I was committed. So I learned more, more about my equipment, more about photogrocessing techniques. From that point I became so hungry to learn and be a better photographer. That hunger is still a motivating force to me today. While I am happy where I am, I don't think I'll ever be satisfied. I think that is one of the cool things about art or anything creative. It's never ending, there will always be something to pursue.
Truth be told I am a terrible self promoter. My brand, my business is me and I hope you enjoy the view of the world I present to you.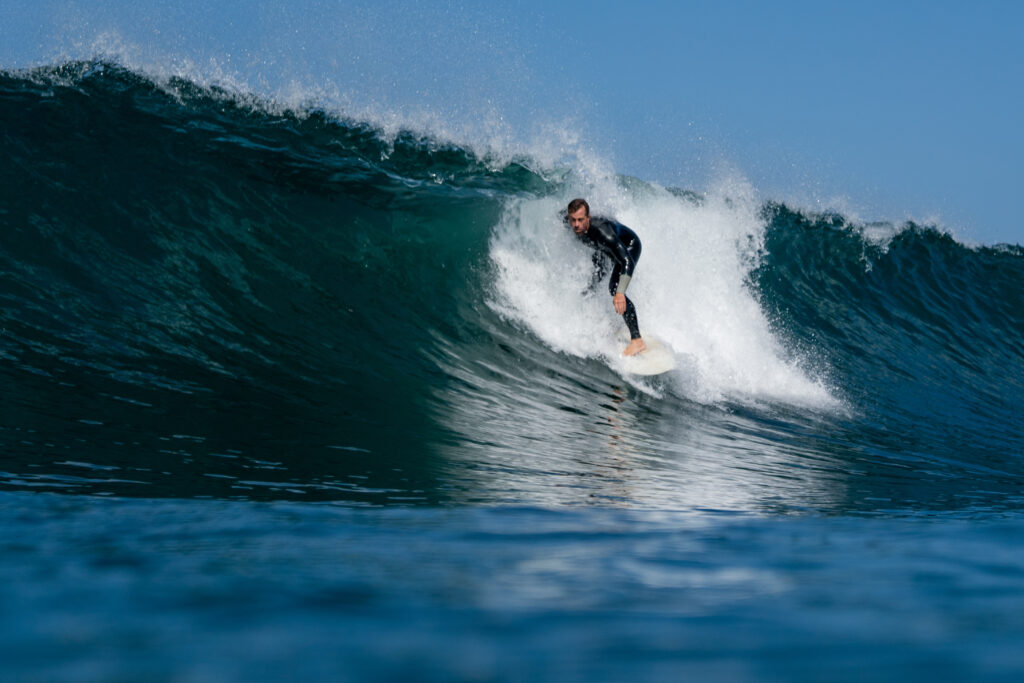 The Beginning
My passion for photography started with a GoPro. Brining it along to capture adventures with friends. From climbing trips to Mexico, riding bikes up in big bear or surfing in San Clemente. I enjoyed snapping photos and making videos.
As progression would have it, I found myself in front of the camera fit modeling for a bike company (not because I look like a model, simply because I ride bikes). As well as riding in some of their advertisements. Evolving more, I began working for a marketing company in Carlsbad California. Assisting in production of commercials to be used on television.  
From there, I worked for a textile designer taking product photos for her website. As well as accompanying her on a business trip to Europe to document the journey. 
Transitioning from that, to the more familiar: Health, outdoor and bike industries. Specializing in everything active and outdoors, I don't limit myself to only that. Photography and videography is my passion and my primary scope of work. I aspire to be great at all types of photography and I enjoy the unique challenges that come with that.
Through the freelancing process, I have expanded services to incorporate marketing tools for small businesses. This all came about in effort of helping businesses use marketing materials that I create for them more effectively.
Edaptive and versatile
From hostel environmental conditions to the controlled environment of a photo studio. I pride myself on being able to adapt to anything and embrace the creative process.
Get Social
For all inquiries
Fill out the form below and I'll be in contact with you shortly
Interview continued
Hi Rob, how do you think about risk?

Risk: a situation involving exposure to danger.
I believe risk is very subjective. To some extent my entire life is based upon risk or assessing risk and acting accordingly. The activities I enjoy and do on a regular basis all under the worst case scenario could end in death. Death can be another subjective concept. Not following your passion or exploring your purpose I believe leads to death in the context of loss of soul or identity. Decisions I make in life and business are all weighed against the possible outcome of death. I also feel that calculation when navigating risk is very important. Operating in risky situations without calculation makes you reckless. Calculation does not remove the potential negative outcomes. But can statistically make them less likely. I would rather do and fail continually than never try.. Ultimately, facing risk, failing and overcoming has helped me fearlessly experience more of what this life has in store for me.