Just a short drive from home in Southern California lies the quaint mountain town of Idyllwild. Pine Cove being the community closest to Idyllwild town center. The town sits on the west side of San Jacinto Mountain and almost directly west of Palm springs. San Jacinto being the divider between the two. The town has shops and eateries and makes for a great drive or motorcycle ride destination. Personally, what attracts me to Idyllwild is all the available outdoor activities. With an abundance of hiking trails and multiple options to the Mount San Jacinto summit. To rock climbing some American Classics on Tahquitz or bouldering Black mountain.
Getting there: Bee Canyon to San Jacinto Ridge Trail to Pine Cove
This time we decided to take a new route to Pine Cove. I did a little research before our trip and found a dirt road that would take us from Hemet to Highway 243 not far from our Airbnb. We made a slight detour and took a trail sponsored by a local jeep club off of the San Jacinto Ridge trail. This was rated as a black diamond and if you weren't in a proper 4 wheel drive rig I would not recommend this trail. There are some steep sections with deep ruts. I used my rear locker in a few places and both lockers through one of the more challenging sections. With lockers we were able to make it up all sections of the trail with relative ease and preserve the trail.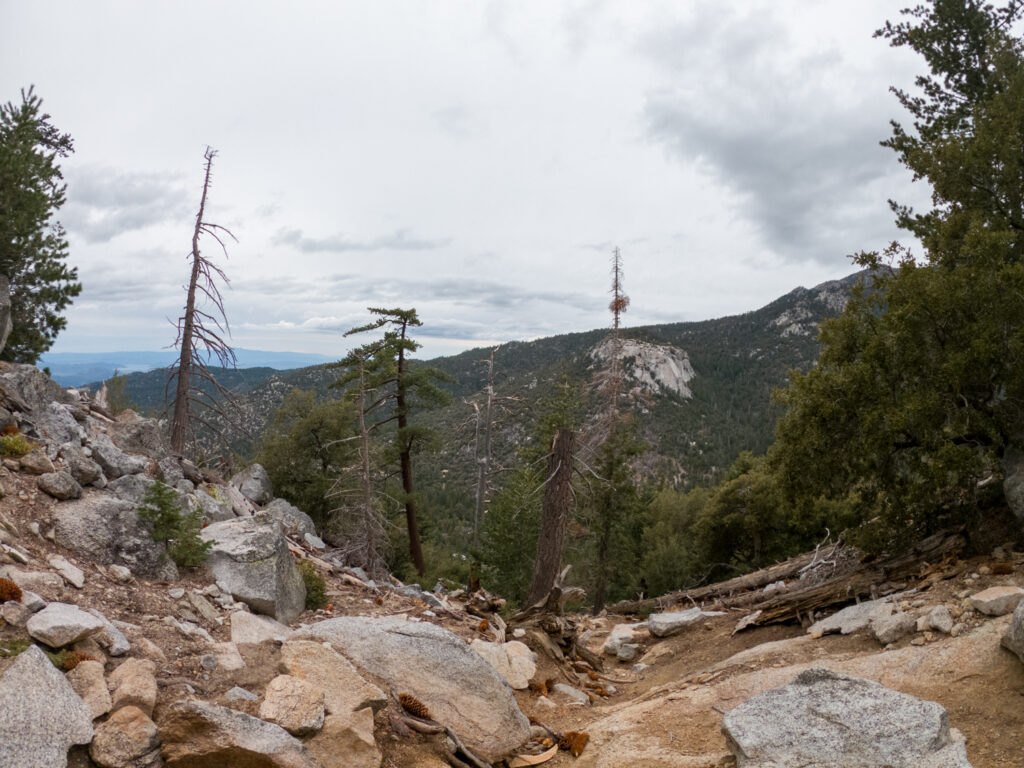 Tahquitz Peak
As you stand in town looking towards San Jacinto the most noticeable rock face is Tahquitz peak. Tahquitz was first discovered as a climbing area in the middle of 1935. In the 1950's members of the Sierra club developed the Yosemite Decimal System (YDS) for rating climbs on Tahquitz. Used in other parts of the world the YDS is still the American standard.
After we dropped our gear we threw Hank in my 50L osprey pack and hiked to the bottom of Tahquitz to catch the sunset (unfortunately it was cloudy). This hike is the climbers approach and it is very steep. There is about 1,500ft of elevation gain in 1.5miles.
Just an overnight stay
The next day we woke to the sound of rain on a wooden roof. With cool temperatures and light rain it felt like the Pacific northwest more than Southern California. Lucky Hank remembered his raincoat! On our way home we opted for yet another detour and took the Little Thomas Mountain Trail. Underestimating how much rain Idyllwild received over night the trail was very wet. For a brief moment we had an opening in the clouds on the top of Thomas Mountain.
Thanks for stopping by
If you have any questions or photography needs feel free to contact me.